Get to Market Fast with a Solution That Engages Students in Learning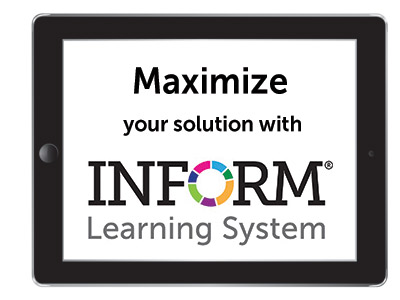 Students need to learn the skills today that they will need in the future . . . and educators need a robust solution that motivates all students.
Partners can quickly expand their solutions to meet these needs by tapping into the capabilities of the INFORM Learning System, our open platform to maximize student potential.
EDmin partners can quickly grow marketshare
by using the capabilities of our flexible platform, such as: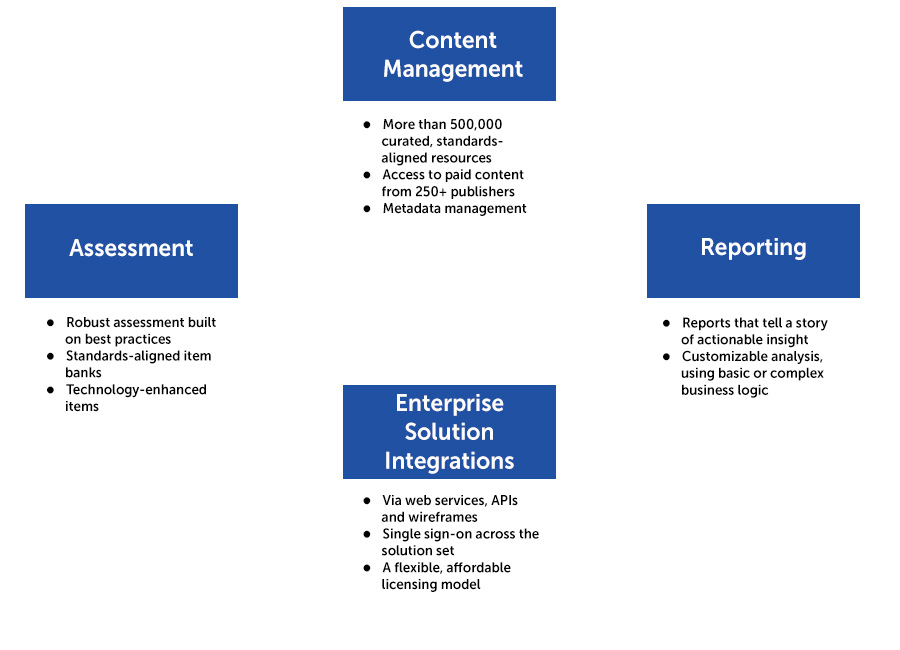 Get to market fast! We can help make
your solution competitive, today and tomorrow.
Partners who share our vision for powerful, easy-to-use technology can extend their capabilities for engaging students through four key capabilities:
Content management

Assessment
Data reporting
Journeys, a new approach to student-centered learning
Each capability is fully integrated into the INFORM Learning System, creating a learner-centric solution that dramatically impacts the educational environment.
Content Management


INFORM Resources supports the delivery of aligned, curated content, answering the question of "what's next?" to engage students.
Following formative assessment, resources are available to remedy gaps.
Based on data reports, students can be grouped and assigned resources appropriate for intervention or enrichment.
Educators can conduct a federated search for supplemental content to fit a learning objective or standard.
Through Journeys, a new capability under development this year, students can set goals, whether for a class or their personal learning path, and access the content they need to reach their goals.
EDmin also provides a gateway to many options for standards-aligned, curated content to engage students in learning. The options include more than 500,000 open education resources (OERs) as well as paid content from more than 250 educational publishers.
Assessment
INFORM Assessment is built on an open platform, providing maximum flexibility for partners to extend their solution with next generation assessment.

A powerful, easy to use interface helps educators save time. They can easily create assessments aligned to standards, score the assessments and generate actionable reports. Automation supports the ability to randomize items and generate assessments linked to standards.

Item banks include technology-enhanced items to help prepare students for next-generation assessments:


Reporting
Integrate a powerful array of reporting capabilities into your solution. Progress indicators and visual reports can be customized at the local level to show selected indicators and combine data from any system.

Simple or complex business logic can produce reports to analyze and predict student outcomes.
Journeys, a new approach to student-centered learning
The goals of Journeys is to give students control over their learning path by giving them an easy, engaging way to explore learning designations and master skills. This leads to improved student motivation, which research has confirmed as an important way to improve student outcomes.
Demos are currently available for partners to see this addition to the INFORM solution, coming this year:
Students map learning journeys, whether that is passing algebra or becoming a dentist.
Teachers create academic journeys for each of their classes.
Each journey shows the learning standards the student must master, translated into plain English learning concepts.
Students see the connection between what they are learning today and what is required for a career.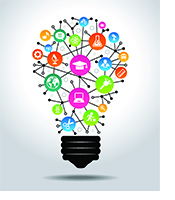 Extend your solution capabilities using our open platform for web-based application integration and content and data management.
You can ensure the reliability and scalability of your solution with a full range of capabilities that easily integrate with K-12 systems.
Whether you are looking to "buy vs. build" or test new markets, our solution provides a cost-effective, flexible way to help your customers improve student outcomes. White labeling is available, so you can focus your core competencies, improve time to market and reduce your capital investment.
Platform Architecture
Component architecture allows access to integrated applications via APIs, web services or iframes.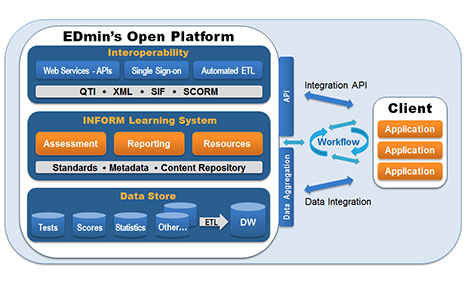 Interoperability standards support data aggregation. Centralized data management and reporting is enabled through the School Interoperability Framework (SIF) data model and defacto standards allowing the import of virtually any external data source.
APIs include integration of roster data, assessment data and the ability to assign online tests.
The solution can easily be integrated with existing databases, legacy systems as well as LMS and SIS solutions.
In the area of content management, profiles can be created for accessing user data.
Both academic and non-academic data can be integrated into our powerful data warehouse to support personalized learning initiatives.
Data can be exported to external systems using an automated ETL (extract, transfer load) process.
Safety and Security
EDmin's open platform is safe and secure via single sign-on access. A two-phased approach is employed:
Authentication
Authorization

The platform has an authentication engine, or alternatively, another authentication provider can be used, such as active directory. Once a user is authenticated, their role-based authorization governs their level of access. EDmin employs industry standards and best practices to ensure the necessary security of all data, and has pledged to safeguard student privacy.