Robust Online Assessment Increases the Marketability of Your Solution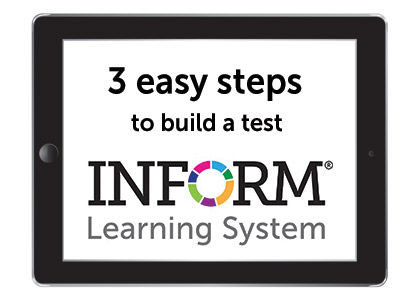 Dramatically extend the capabilities of your solution through the integration of INFORM Assessment, which adds a powerful set of capabilities for motivating student learning.
Your clients will benefit from built-in best practices for test-building and automated workflows that make it easy to track student levels of understanding.
Because INFORM is built on an open platform, you control multiple options for test items:
A standards-aligned item bank with technology enhanced items, available through INFORM
The ability for educators to create items and align them to standards
Integration of your item bank or third-party and district item banks (supported by QTI 2.1)
Partners can count on EDmin's technology
for next-generation assessment:
Using our open platform is better than building your own solution from scratch because you can quickly provide a reliable, competitive feature set.
Designed with years of educator feedback, the platform saves time every step of the way:
Options for Easy Test-building
Educator-selected: Educators can create assessments in 3 easy steps, using built-in best practices for item selection, etc.
Auto-generated: Educators can automatically generate standards-based assessments based on a set of criteria including standards, number of items, item type, depth of knowledge, difficulty and cognitive level. The system will randomly select a set of items that meet the criteria and "automatically" build the test.
Auto-generated and randomized: Educators can automatically generate standards-based assessments using question blocks, a selection of items grouped together that assess the same standard. Each student's test questions are selected randomly from the question blocks.
Next-generation Assessment
A variety of item types help assess standards appropriately on next-generation assessments, with additional types being added throughout 2015. Current types include:

True/false
Multiple-choice
Short-answer and constructed-response
Constructed-response items with scoring rubrics
Mode-specific writing prompts with scoring rubrics
Technology-enhanced items (TEIs): multiple correct, order choice, inline choice, text entry, gap match and hot text
Delivery Options
Tests can be delivered to and taken by students via online testing or paper and pencil.
Useful Results
Results are automatically uploaded to role-based reports.
Pre-built reports show class ranking, provide item analysis and more.
Reports can be integrated with INFORM Resources to generate suggestions for aligned digital content to meet individual students needs
Personalized Instruction and Grouping
Students are easily grouped for RTI or enrichment.
Teachers can assign online assessments directly to students.
Import and Export of Assessment Data
Data can be integrated with third-party sources such as gradebooks.
Learn more about APIs related to assessment.
Use metadata for analysis
Metadata can be used to track items to aligned standards, competencies, pacing guides, etc.
Metadata with items and assessments includes but is not limited to grade, subject, Common Core State Standards, state or district performance objectives, cognitive levels, Bloom's Taxonomy, Webb's Depth of Knowledge (DOK), difficulty level, key words, target audience, test form name, etc.