Quickly Extend Your Solution With Reporting That Transforms Teaching and Learning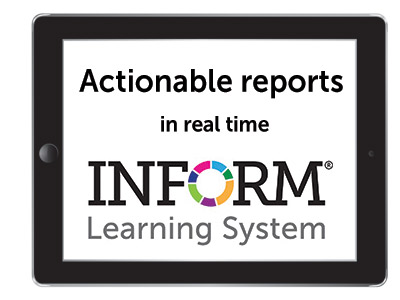 Every day, educators need to put data to work so that students stay engaged in meaningful learning. With INFORM's role-based system, educators at every level from teacher to top administrators can see whether students are on track to meet goals and whether programs are effective.
EDmin's reporting solution is based on years of collaboration with districts at the forefront of successfully using reports to guide instruction and development of educational initiatives.
EDmin partners can quickly go to market with a reporting platform that provides a true picture of student performance:
EDmin's secure, role-based reporting makes it clear how every student is doing, and what intervention or enrichment is needed. To further empower innovation, simple or complex business logic can produce reports that analyze and predict student outcomes.
The web-based system shares data with the platform's assessment and the content management capabilities to add value to your solution.
Saving time for educators is a key focus of the platform. No programming knowledge is needed to create and update reports.
Implementation is quick and easy:
Customizable Pre-built Reports
Educators save time through the ability to easily create new reports designed around common academic objects such as rosters and assessment results, as well as non-academic measures.
A data warehouse scrubs the data and makes it available for distribution in many different ways.
Dashboard Reporting
Dashboard reports integrate data from any source (SIS, state test results, district benchmarks, classroom assessments, third-party results, etc. 
Business logic can be applied to show progress toward goals and predict outcomes.
Color coding shows student performance at a glance. At the administrator level, it's easy to see which schools and classes are on track with district goals. At the classroom and student level, it's clear where intervention and enrichment are needed. Students are easily grouped for interventions or enrichment, by drilling down from any color bar:

Push reporting keeps educators informed of student progress.
Multiple Measures Reporting
Data from multiple sources can be combined to give administrators and teachers a report showing the multiple factors that affect student progress. The ability to combine academic and non-academic measures provides many benefits:

Customizable: Each data element comes from one or more sources that are imported into the INFORM database. Once the data has been brought into INFORM, very simple or very complex logic can be applied to create a performance indicator.
Comprehensive: If educators wish to create a performance indicator for student success, the data might include assessment results from multiple sources, attendance, observation of the number of behavior issues and the type of behavior issue.
Categories: Educators can create a complex performance indicator for at risk students, such as meeting several conditions such as grade point average, more than three behavior issues and more than 5 days absent in the past 90 days.
Educators can create more simple performance indicators based on grade point average alone.
Educators can create performance indicators based on aggregated data instead of individual student data.
Other Types of Reporting
Longitudinal: Historical data is viewable through a complete set of longitudinal reports.
Comparison: District staff and educators can compare year-to-year results on specific measure to track student learning gains and losses.
Hosting and Security
EDmin can host the solution for a partner, removing the need for additional network software and hardware.
Security and roles are managed at a metadata level so only authorized users will have access to student data. Your client (the school district) defines the roles and access.
EDmin has taken a pledge to protect student privacy. Learn more.
Compatibility
Reporting tools are extensible, scalable and compatible with Excel, Access, PDF, CSV, TXT and many other formats.
Filtering can be done with single or multiple indicators.
State and Federal Needs
Your solution can help districts meet rapidly changing federal and state mandates by providing an open platform for aggregating data.
The INFORM Learning System is eligible for Race to the Top funding.