Communicate your progress to all your stakeholders effortlessly
What if you could manage your School Improvement Plan in one easy interface that makes reporting data effortless?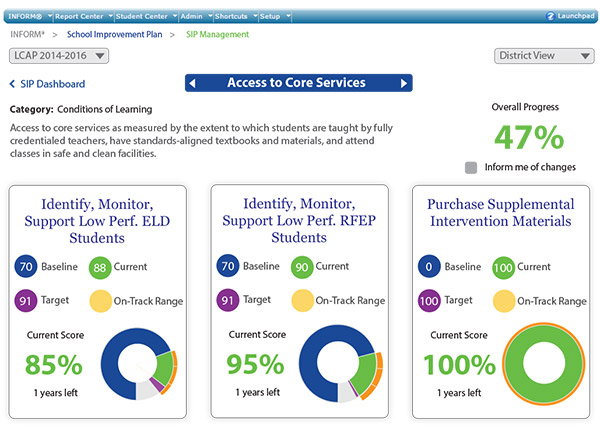 Coming soon! The INFORM Local Control and Accountability Plan dashboard shows progress for every area at a glance.
Give your plan administrator a time-saving system for managing your plan from one screen:
Easily enter and customize priority areas.
Track measures and define funding sources.
Create reports with multiple measures, academic and non-academic.
Generate push reports.
Create interventions and make adaptations to ensure plan success.
Get predictions that forecast whether you are on track to meet goals.
Use the automated template to conform to state requirements and make report filing effortless.
Student Success Indicators show you student performance on demand, at a glance.
Role-based access keeps all stakeholders aware of progress. Student success indicators create a true picture of progress on the strategies you are using to improve student outcomes.
INFORM for SIP is built on the robust capabilities of the INFORM Learning System, a comprehensive instructional improvement system used by districts of all sizes for many years. You can count on:
Rapid Ramp-up – so you can start using these tools for the school year ahead
Flexibility – for district, site and classroom use
Optional support includes standards-aligned assessment and access to a vast library of digital content that is easily search to personalize learning.
 
INFORM FOR School Improvement Planning
Originally created to address the accountability requirements of California's new school funding initiative, this transparent reporting tool is easily adapted for use with any school improvement plan. It tracks district and school rubrics by student subgroup and by multiple academic and non-academic performance indicators. Learn more